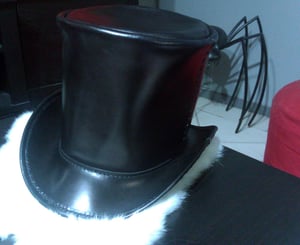 $

250.01
New and improved! I'm now using the best available grade of leather, and have added a sweatband to the hat construction.
This listing is for one hand-sewn leather top hat, made to fit your head size. It's built out of 5-6oz (slightly more than 1/16" thick) leather. It's very solidly built, and will last for many years of regular use. It's good for formal events, costumes, even steampunk outfits.
As usual with my leather stuff, I can dye the hat nearly any color.
Dimensions:
Hatband - custom made to fit your head (please provide measurement when ordering)
Crown height - 6.5"
Brim width - 2.25"